Preschool Coordinator News
Mrs. Ashley is leaving us to embark on a wonderful new journey. Starting in August, Mrs. Ashley will be joining Nash Elementary as a Kindergarten teacher. While we will truly miss her in our preschool area, we offer our prayers and well wishes as she begins teaching the kids at Nash. We love Mrs. Ashley.
The church unanimously voted to hire Eric Beechem as our next worship pastor! We are excited for him to be joining us this week!
YOUTH CAMP • JULY 27 -31 • 5 -11 pm • $50
Covid -19 has claimed much of our year but it 's not going to take all our summer away. We 're having camp right here and taking advantage of our very large church building that allows lots of space to spread out. Camp will be July 27 -31, just in time to get some fun in before school gets started! We will meet in the evenings from 5 -11 p.m. Cost will only be $50/per student. We 're excited to be hosting camp! This will make a huge impact on your student.
If you would like to take advantage of this durning our service, please contact Mrs. Ashely
Family Summer Bucket Challenge
If you have not already recieved your bucket from Mrs. Leah, there are more located in the foyer by the office. Details for all activities are included. For any questions, please contact Mrs. Leah.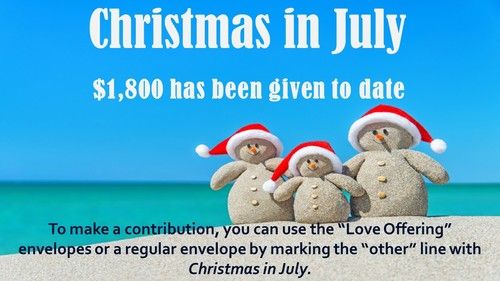 Beechem Drive-Thru Gift Card Reception
Contact Us For Any Questions